How RealTime Social Works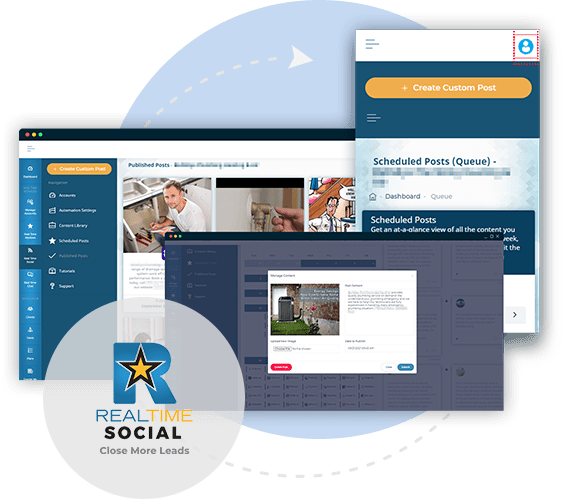 Social media is your greatest marketing asset. Potential customers use social media to find products and services. They often ask for recommendations and reviews from trusted family and friends before making a purchase. That is why Real Time Marketing offers social media management and marketing services for plumbers, trenchless pipe and sewer installers, HVAC specialists, roofers, dentists, and more!
Social Media Content Design and Strategy
Reaching your target audience on social media is similar to other areas of marketing. One thing that makes social media marketing different is that each social media platform uses a different format and appeals to a different audience. To be successful on social media, you need a team who knows the audience and how to reach the widest audience possible. That is where our services can help, and we do so by designing content that matches your business goals.
The strategy we develop depends on your business goals and which platforms your audience uses. Before we begin, we get to know your brand and your target audience. We determine the best way to reach and engage them on social media. Depending on your budget and needs, we create a tailor-fitted content strategy that works for you.
Measurable Results
Once your content strategy has been developed and scheduled, we do everything for you. We use analytics to determine the success of the campaign. Our team tracks audience engagement, click-through rate, and conversion rate. These analytics help us determine the success of the campaign, so we can make adjustments as needed.
Social media is one of your best tools for driving business and letting people know about your products and services. The key is knowing how to use each platform successfully to reach the right demographic for your business. That is why a service that specializes in social media marketing, like Real Time Marketing, is a good investment!
Grow your business with your
easy-to-use, state-of-the-art
REAL TIME MARKETING toolbox!