How GBP Works for Businesses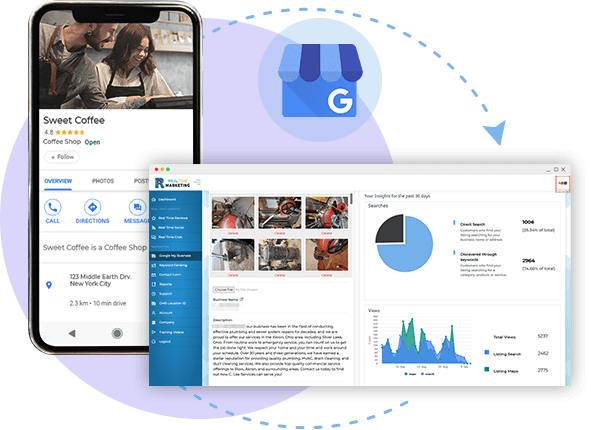 Nearly 97 percent of people searching for products and services online perform a Google search first. Whether they are looking for plumbers, trenchless piping services, roofers, or dentists, one of the first results they will find is your Google Business Profile (GBP).
Real Time Marketing can help you build and manage your Google Business Profile in a way that paints your company in the best light and attracts customers.
Why Use Google Business Profiles
The truth is that even if you are not aware of it, many businesses already have a Google Business Profile. Even if you do not actively manage your profile, you probably already have one. Google uses the information they can glean about you to create the profile. Others can also submit information.
The problem with auto-generated profiles is that they often contain incorrect information. They might have an incorrect phone number, address, or vital information. Also, visitors can leave reviews and comments about your business. This is all good, but if you do not claim your Google Business Profile and manage it actively, you are at the mercy of your customers and audience.
Claiming and Managing Your GBP
Google lets you claim your GBP and manage it actively. Doing this allows you to verify that all information is correct. You can also respond to any negative reviews appropriately, so they do not harm your business. When you claim your profile, you can also make posts to let your audience know more about your products and services.
The best part is that your GBP is free, and you probably already have one. If you do not actively manage it, you are not taking advantage of this free marketing tool. When properly managed, your GBP can be a valuable asset, but if you do not, it can harm you more than you might suspect.
Contact Real Time Marketing, so we can help you get the most out of your GBP!
Grow your business with your
easy-to-use, state-of-the-art
REAL TIME MARKETING toolbox!