Google Business Profile / Google My Business Management for Plumbers
The Leader in Google My Business / Google Business Profile Management for Plumbers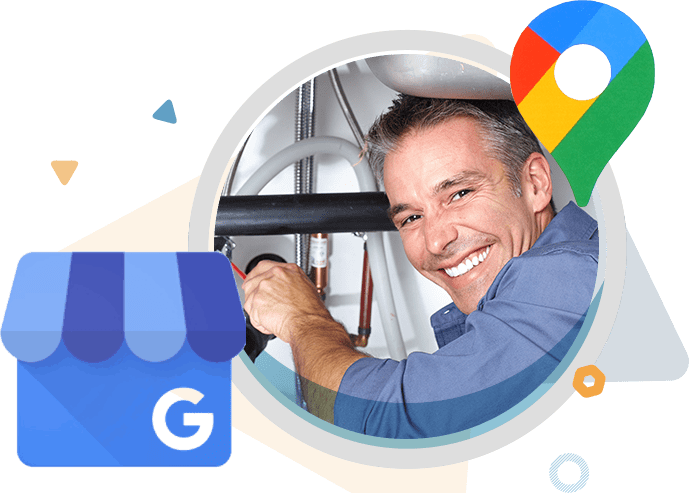 GMB for Plumbers: Do you appear to people nearby searching online?
Google My Business or Google Business Profile is an excellent tool for plumbers who want to get their business seen on Google Maps. A Google My Business account allows you to gain control over your Google Business Profile and use it to draw local customers who need your services. Let's explore how GMB management for plumbers can help you drive local traffic to your plumbing services.
Understanding Google My Business or Google Business Profile for Plumbers
The first thing you need to understand is that your Google My Business or Google Business Profile needs to be claimed before you can maximize its benefits. A Google Business Profile allows you to be seen on Google Maps and you get an automatic business profile. You do not even have to be the actual owner to add your business to Google Maps.
Your business profile is then open for customers to add photos, leave reviews, and ask questions. It can even be populated by information Google pulls from different places across the web. You cannot edit your business profile, and you have no control over it. Creating or claiming your Google Business Profile or Google My Business account allows you to manage and enhance your business profile so that it works for you to drive traffic.
Just as with your social media, website, and other advertising, having a professional on your side who knows how to optimize your profile will help you get the most from your GMB account. One advantage is that you can use your GMB account to publish posts, much like you would on other social media platforms. This gives you many opportunities to engage with clients and get the most out of your account. Our GMB Management for plumbers will take care all of these things for you.
Benefits of Google Business Profile Managed Services
for Plumbers
Having a professional manage your Google My Business account can give you many benefits. We have already talked about how you can use it to engage with your customers by making posts as you would on social media, but there are other benefits as well.
A standard business profile on Google only contains the basic information about your business. A Google My Business account allows you to link to your website, tell your customers about your hours, and provide information about products and pricing. You can also let people know why they should choose your plumbing business over your competitors. It gives you a chance to show your unique personality and why you are the best person for your customers' plumbing needs. Google My Business service for plumbers will allow you to have an optimized GMB profile to make your plumbing business stand out.
Another advantage to Google My Business is that it allows you to see how you are doing in your local search performance. You can see which words customers are using to search for your business, whether they found you on Google Maps, Google search, or other platforms. You can also see how they interacted with your listing and how well your photos are performing to drive business. It gives you a measurement tool for keeping track of how well your local advertising campaign is helping your business grow. Our GMB for plumbers service include reporting all GMB insights data.
Just as Google ranks websites on the search engine results page using an algorithm that analyzes search engine optimization (SEO) and other factors, it also uses a similar algorithm to rank Google business profiles in local results. This is where having an expert who knows how to boost your business profile can give you an advantage. Our Google My Business for plumbers service will make you rank higher in the search results.
How Google Business Profile Management Works
Just as with getting your website to rank on the search engine ranking page, getting your business profile to rank well requires strategy and planning. You have to know what your customers are searching for when they look for your business and make sure your profile matches the search. This requires developing a keyword strategy that will help you place high when someone looks for your local business. This is included in our Google My Business service for plumbers. Here is what you can expect us to do as part of our process when you hire our team of GMB professionals.
Setting Goals and Objectives
The first step is getting to know your business goals and objectives. We want to know what your expectations are, who your target market is, and what makes you unique. This will help us develop a strategy to optimize your GMB business listing.
The second step is to conduct research. In this step, we look at your competition, do keyword research, and gather the information that can be used to develop a sound strategy. We see what is working and what is not working for businesses just like yours. We also gain insights into how your local area clients are searching for you.
Once we have this information, we can use it to develop a plan to help you achieve your long-term goals. Results can take time and consistency, and we are dedicated to helping you see through the process to reach your objectives.
Putting the Plan into Action
The next step is putting the plan into action. We take care of everything, and the only thing you need to do is to provide excellent plumbing services for your customers.
Measuring Performance and Getting Feedback
Measurement and performance feedback is one of the most important elements of making sure the plan is a success. Regular monitoring means we can make adjustments if needed and enhance the things that are working best.
Ongoing Monitoring and Improvement
Search rank is one thing, but you have to work to maintain it, or it will slip over time. We provide ongoing monitoring and will make any improvements that we think will make your business profile perform even better.
Here is what we include in our GMB management services:
Here Are a Few Statistics About Google My Business
The average business appears in 1,009 searches per month, but you still have to entice them to click the link and contact you. About 56% of customers who find you on GMB will visit your website. All these go to show that GMB is an effective marketing tool if you know how to leverage it.
Make Us Your GMB Management Provider for Plumbers
We rely on a method that has been proven effective, as you can see in our portfolio. More than our combined knowledge and hard work is our commitment to giving our clients the best site that loads fast and works on mobile yet stays true to their brand's ideals and objectives.
Real Time Marketing has a team of experts waiting to help you improve your business profile through managed GMB services. Yes, we are the experts in providing Google My Business services for plumbers. Contact us today so we can get started helping your plumbing business grow. We look forward to hearing from you.
CONTACT THE LOCAL SEO AND GMB EXPERTS
Give Real Time Marketing a call today, so we can get started on developing your very own Google My Business optimization strategy right away. Our friendly team looks forward to hearing all about your company and your brand. Rest assured that we will be working with you every step of the way in boosting your local online presence, so schedule an appointment today!
Grow your business with your
easy-to-use, state-of-the-art
REAL TIME MARKETING toolbox!